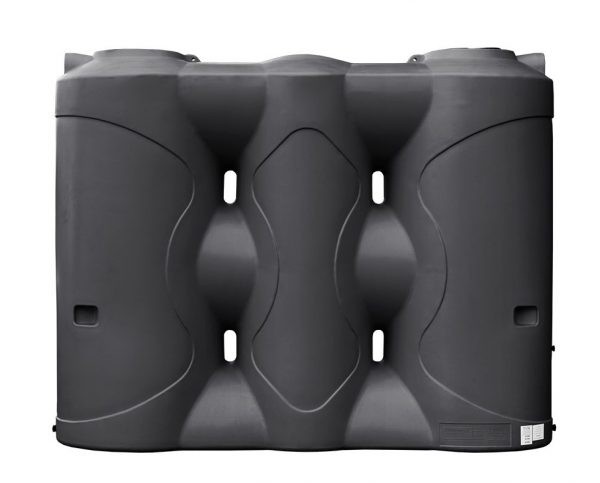 Slimline Tank YRSSQ3000
3000 Litres
Length 3030 mm
Width 750 mm
Height 1800 mm
Size:
3030mm x 750mm x 1800mm

(LxWxH)
Product Description
New 3000L low profile slimline rainwater tank to save space on your property.
4 x Hand-grips to make it easier to handle
2 x Inlet Strainers (1 either end for versatility)
2 x 1″ Outlets (1 either end)
1 x 90mm Overflow supplied (position at either end)
1 x ¾" tap (supplied)
Lifting lugs enable tank to be craned in to restricted spaces
Features:
COMPACT & STRONG DESIGN to save space and fit neatly down the side of your house
TWO INLET STRAINERS at either end to give you more options for installation
TWO OVERFLOW POSITIONS at either end to give you more options for installation
HAND GRIPS to make it easier to get your tank into position
LIFTING LUGS enabling the tank to be craned into restricted spaces
TAP OUTLET enabling you to fill a bucket or watering can
FOOD GRADE MATERIAL idea for drinking water storage
Available in 24 COLOURS to match your Colorbond roof or fence
So we can answer all your questions, check stock availability, advise on delivery time and process your order and delivery, please phone or email Aquality Water Tanks. We will make sure you are choosing the right tank for your property and explain its use, installation and maintenance.
We supply Central Coast, Sydney, Northern Beaches, Newcastle, NSW Coast, Melbourne & Brisbane.
DELIVERY: For above ground poly tanks up to 10,000L
Central Coast $40
Newcastle $60
Newcastle west of Beresfield $80
Sydney north $50 Sydney south $70
OTHER AREAS DELIVERY POA
All our tanks are high quality, durable, look good & come with warranty.
All tanks include a leaf strainer, ball valve and overflow connection. 100% Polyethylene food grade material. For your assurance of quality & safety – Certified AS/NZS 4766:2006