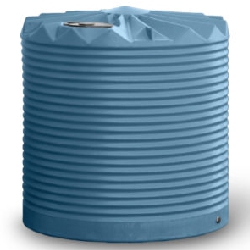 Round Tank RTO3000
3000 Litres
Diametre 1710 mm
Height 1780 mm
Inlet Height 1680 mm
Product Description
Traditional corrugated design provides added strength and attractive appearance
2 x BSP Outlets at 3 & 9 o'clock
90mm Overflow
Mosquito Proof Inlet Strainer & Dust Cover
1″ Ball Valve supplied
Unique roof design eliminates the need for a centre pole. Lifting lugs for easy positioning. Maximum wall thickness at the base for long term structural strength.
Manufactured under strict quality assured procedures and conditions meeting the requirements of ISO:2001. Tanks are made from food grade UV stabilised polyethylene using only premium quality Australian materials for Australian conditions. All materials conform to AS2070 and water standard AS2040. Brass fittings are used at the customers positional requirements. Can be supplied with standard fittings including outlets and leaf strainers.
Round Water Tanks have domed tops for extra durability, which means that internal supports are not required. All Round Water Tanks have 2x 25mm brass outlets moulded into the tank at the 3 o'clock and 9 o'clock positions. The inlet (leaf strainer) is at the 12 o'clock position. Overflow can be at 12 o'clock, 3 o'clock, 6 o'clock or 9 o'clock. Please call for alternative brass outlets to suit your requirements.
So we can answer all your questions, check stock availability, advise on delivery time and process your order, please phone 1300 783 742 or email Aquality Water Tanks. We will make sure you are choosing the right tank for your property and explain its use, installation and maintenance. We supply Central Coast, Sydney, Northern Beaches, Newcastle, NSW Coast. All our tanks are high quality, durable, look good & come with warranty.
DELIVERY POA